Does reporting give your organization a headache?
Producing reports from IT systems has always been an issue. System-integrated reporting tools have always been managed by IT professionals, they lacked flexibility and the results were far from satisfactory. On the other hand, reports produced from data warehouses would fail to represent current data as they were fed periodically, and the software itself together with the implementation project would cost a fortune.

The same used to apply for JD Edwares. Reports generated with JD Edwards Report Design Aid have always required a lot of effort, and they don't look good. An example specification of receivables which is presented below does have the basic information needed by debt recovery personnel, but you can see at once that the design would rather match last century's standards than the currently prevailing trends.

A more demanding user of such report will certainly ask a lot of difficult questions to the designer:
Where are other data cross-sections?
How can I check the 10 most heavily indebted customers?
Will I be able to quickly compare data from other reporting periods?
How to filter the data dynamically?
I would like to display the data as diagrams. Can I do that?
I need the data in Excel. Can this be exported easily?
Can I produce benchmarks by myself on the basis of data I can see in the system?
With the scope of tools that used to be available for JD Edwards, the user had to be sent away. This was obviously a source of frustration and conflict between the business and the IT department.
Fortunately, these times are long gone.
OneView REPORTING INSTEAD OF PARACETAMOL
OneView Reporting is a breakthrough in the field of reporting from JD Edwards. This tool allows you to create attractive visual reports, comparisons, diagrams in various formats directly from JD Edwards system views. It supports all the areas of the system and all data views. It does not require installation of any tools on the user's computer, and the user will only need a short (maximum half-day) training to be able to prepare the reports of his dreams for himself and his peers, based on data downloaded in real time from the ERP system. All this is done intuitively, similar to creating pivot tables in Excel. In addition, to design your own reports in OneView Reporting, you do not need to have expert knowledge of the database, JD Edwards data structure, or programming languages. In just ten or twenty minutes you will get results which you can share with your colleagues if you wish.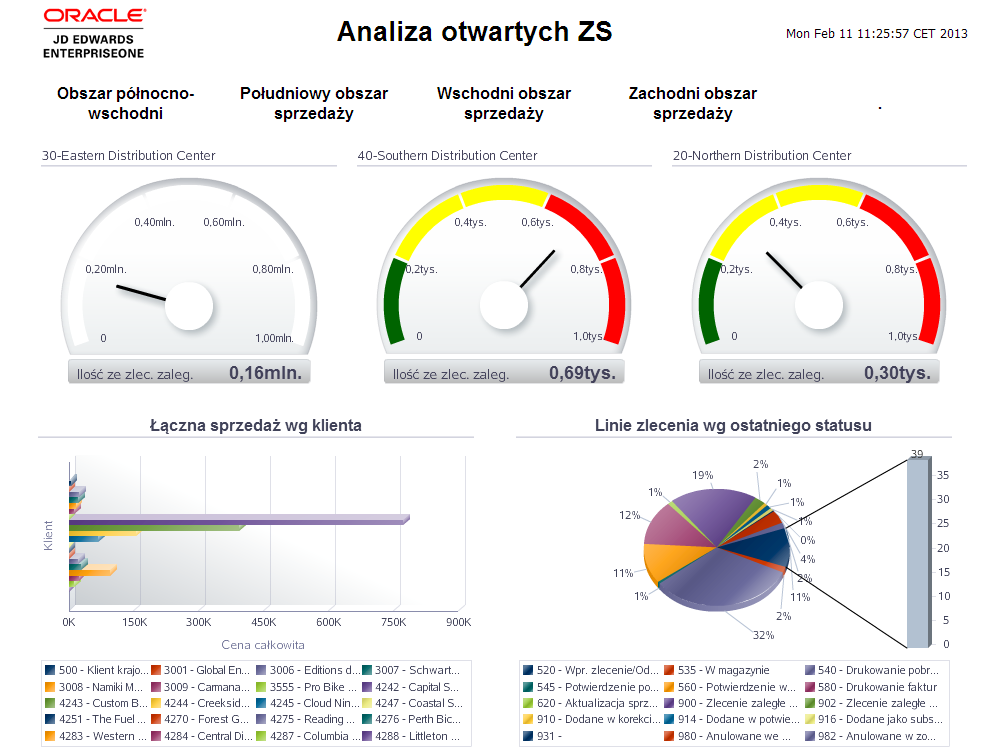 Figure – example report from the Procurement Management field

Users who begin their adventure with the tool can enjoy the benefits of using it from the very beginning, with more than 200 ready-to-use integrated cockpits and reports provided by the system developer. They apply to multiple areas. Below is a list of some of them, specifying the scope of management information that can be obtained from them.
FINANCIAL MANAGEMENT
Which customers have the highest outstanding invoice amounts?
What are the actual/budgeted deviations for various categories of expenses?
Which departments generate the highest margins on sales?
Which vendors need to be paid next week?
What are the differences in efficiency between individual debt recovery specialists?
What are the amounts of deregistered receivables?

MAINTENANCE
What are the costs of maintenance specialists' work?
What types of equipment failures are most common?
Where was machine X used most frequently?
Is there a higher failure frequency for equipment from certain vendors?

INVENTORY MANAGEMENT
How does inventory value change in time?
Which products run out most frequently?
Which warehouses generate the highest surplus of products?
How do stock balances change in time for selected products?

PURCHASING
What are the purchasing trends for materials and vendors?
Are the products purchased in accordance with the agreed terms?
Which vendors are the 10 largest for our organization?
Which purchase orders are late?

ORDER MANAGEMENT
Which customers ordered the largest volume of products?
How many orders exceeded the promised shipping date?
Which orders were completed late?
What is the margin for completed orders in the past period?
What are the sales trends for products and customers?

PROJECT MANAGEMENT
What is the relation of actual to budgeted values?
What are the key expense categories for a project group?
What is the estimated progress for the project?
What are the deviations for various project categories?
What is the profit margin for projects?

REAL ESTATE MANAGEMENT
Who are the anchor tenants for the given facility?
What are the occupancy rates for facilities?
Which premises will be vacated during the next 60 days?
Which premises are currently unoccupied?

PRODUCTION MANAGEMENT
What kind of deviations from default costs are recorded for finished products?
The five departments with the highest deviations from default costs.
How many work orders are currently in production?
How much labor and machine uptime still needs to be covered for ongoing orders?
What planning messages are available in the system for the planner?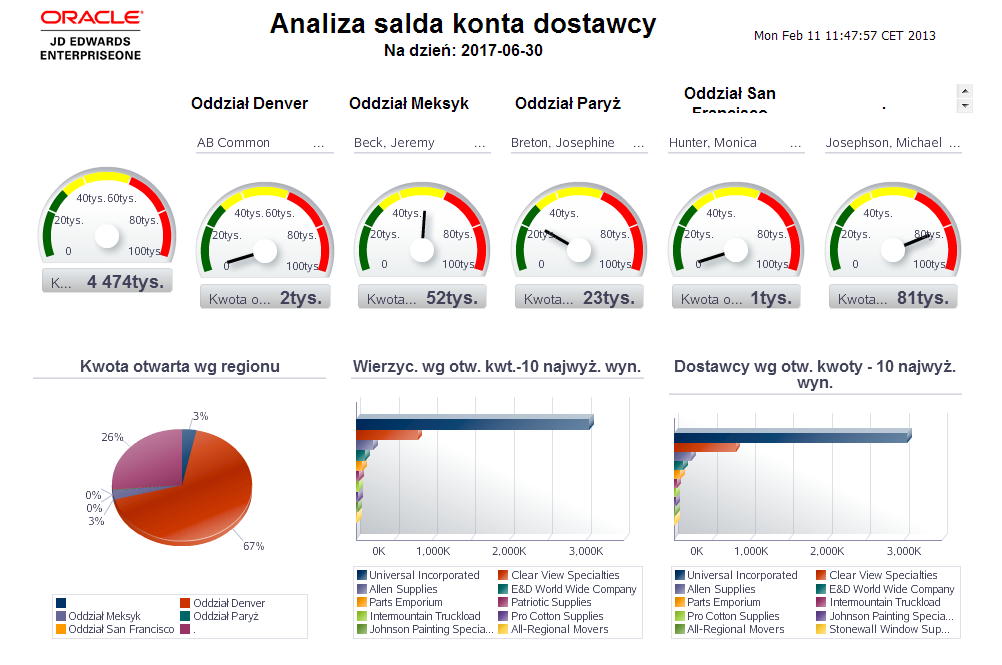 Figure – example report from the Procurement Management field
Advantages of using the OneView Reporting utility
To sum up the benefits for users of the utility:
The utility is targeted at end users – this will obviously enhance user satisfaction,
IT department's involvement in the process of designing reports is not required – use of the utility reduces system maintenance costs,
You don't need to know the data structures or programming languages to design your functions – this ensures quick results,
Reports are based on real-time data – allowing for analysis of current data and taking quick and right decisions,
Simple and intuitive – reduced training time,
Integrated reports for various areas – for immediate results.

For more information about OneView Reporting, see:
http://www.oracle.com/us/products/applications/jd-edwards-enterpriseone/one-view-reporting/overview/index.html