JPK Control Files
We deliver 7 types of control files - find out why it is worth implementing our solution
JPK Solution from XELTO was completely built in JD Edwards system. We offer functionality to support the following JPK control files:
Structure 1 - JPK_KR – General Ledger;
Structure 2 - JPK_WB – Bank Statements;
Structure 3 - JPK_MAG – Inventory Transactions;
Structure 4 - JPK_VAT – VAT Transactions;
Structure 5 - JPK_FA – Invoices;
Structure 6 - JPK_RR – RR Invoices;
Structure 7 - JPK_V7M – VAT7 Transactions. This control file is effective since October 1st 2020 - the solution uses the same tables as the JPK_VAT.
Main adventages of the solution:
Neutral to settings and other processes in JD Edwards system;
It's configured and easily adapted to the specific types of operations performed by the Customer;
The functionality is autonomous and does not require installation of the Polish location of JD Edwards system. The only excpetion is JPK_FA where PL localization settings are required;
The solution is simple and safe to use;
JPK files are generated in the XML format which is required by the regulations;
Files are created by running reports from JD Edwards system that save data to new sets corresponding to individual JPK control files;
Source data comes from standard JD Edwards system tables in the environment in which the report is run;
Browsers are built in that allow authorized persons to edit JPK data with the option of importing ex. from Excel;
The system allows managing versions of JPK files.
The solution is well documented. User guides help the Customer go through the configuration and update process quickly and without errors. This is particularly important in view of the constant updating of requirements carried out by the Ministry of Finance.
The solution is available immediately - configuration of the JPK_VAT control file together with JPK_V7M in JD Edwards system takes no more than 2 days!
The presentation shows the basic characteristics of the Xelto solution, common to all structures.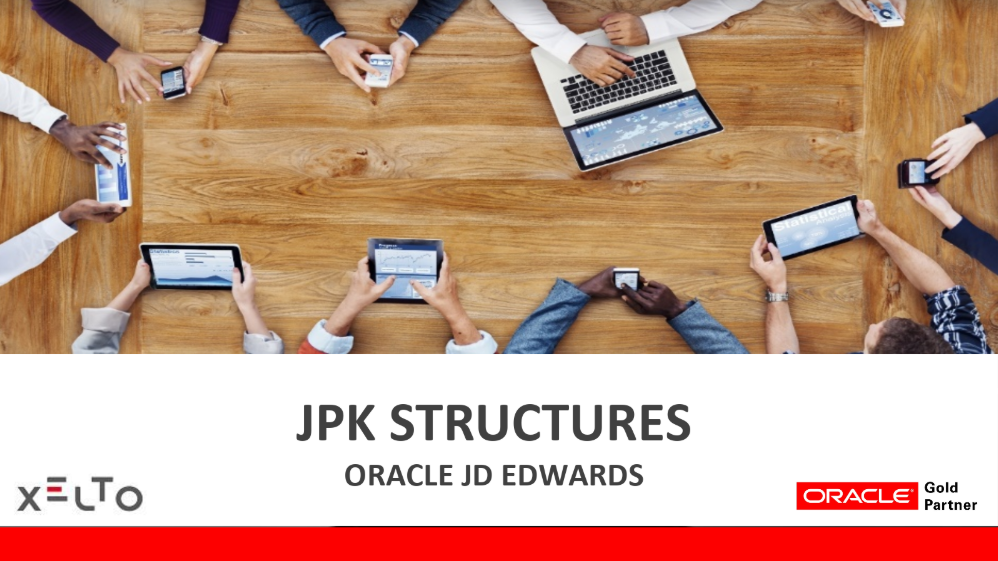 MOVIE LIBRARY
Get to know how a single jpk control file works. Watch movies and make decision.